My friend Marc Olson died two weeks ago. Although his funeral was well attended by family and friends, the process of remembering and honoring those who pass doesn't stop there. Marc and I knew each other for about a decade, brought together by a shared love of wine and food and cooking, but we also worked in the same business (once even at the same company, briefly) and our conversations over the years ranged widely.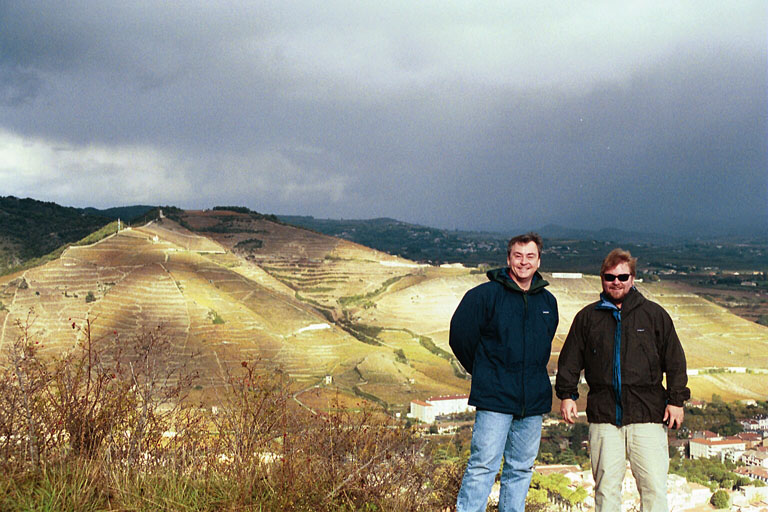 The picture shown here (Marc is on the right) is from our first trip to France together, in the autumn of 1999. Marc, myself, and Peter Glidden met up in Lyons and drove down the Rhone River, eating terrific food, drinking amazing wine, and getting to know winemakers. In the picture, we're standing on a hill on the west bank of the Rhone River, looking across to the Hermitage hill and vineyards, where the Rhone makes a bend and exposes the steep rocky vineyards to wind and sun, causing the Syrah to struggle and thus gain complexity beyond that normally seen in southern or especially domestic wines. Hermitage was Marc's "home" in the wine world.
This trip was our first visit to the cellars of Jean-Louis Chave, the incomparable maker of Hermitage, St. Joseph, vin de Paille, and now the Mon Coeur Cotes du Rhone. Our first dinner together on that trip, at Le Beau Rivage in Condrieu, was terrific, but merely a taste of things to come. While staying at Les Florets in Gigondas, we nearly plunged our mini-van off the narrow, steep road leading up the Dentelles de Montmirail, and had to be pulled back onto the road. The car was insured, but its cargo of wines was not, and we all breathed a sigh of relief.
But our best evening was at the end of our trip, with dinner at Beaugraviere, in Mondragon. Beaugraviere, a classic French country restaurant run by chef Guy Jullien, makes a particular specialty of truffles, and at the time had the most spectacular wine list I'd ever seen. Each of us, as wine enthusiasts, was given a weighty novel-sized book, with each page listing a different producer, with a long list of the vintages available. Marc, Peter, and I read in silence for minutes, each compiling a list of likely candidates. Most of the bottles hadn't moved since their purchase or release, meaning that old vintages from the 50's, 60's or older would still be in pristine condition. Our choices, to complement Jullien's cuisine, were the 1978 Guigal La Landonne to start, the incomparable 1961 Jaboulet La Chapelle, and an incredibly rare bottle of 1929 Chave Hermitage. The three of us couldn't believe our luck in having such an amazing ending to our trip. After the restaurant closed, we sat and shared the last of our wines with Jullien, who broke out an amazing and rare oddity — a sweet marc (or grappa) made by Chateau Rayas in 1945 but never commercially released. A perfect end to our trip together.
Given busy lives and responsibilities, we didn't see each other as often as we'd have liked, although oddly enough my moving to San Juan Island and Marc's plane crash earlier this summer brought us together much more lately than otherwise would have been the case, and I'm grateful for that. Several times lately, I've found myself reading something and thinking, "I should send this to Marc." But our conversations are done now, and Marc lives now in the memories of his friends and family. These will be memories of energy and exuberance and a passion for life. None of us who knew and loved him will easily or quickly forget how he brought all of these qualities into our lives in abundance.