About the Author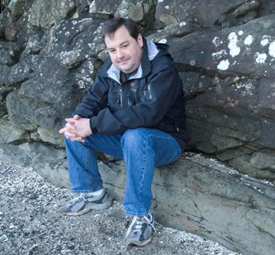 Mark E. Madsen is an anthropologist, technology entrepreneur, and software engineer living in the San Juan Islands of Washington State.
I've recently returned to the University of Washington to complete my Ph.D. in Anthropology, after a long hiatus working in the software and telecommunications industries. You can get online copies of publications, and download simulation software at my older U.W. website, but this blog is intended to replace that older static website for discussion of my research interests.
Until they were purchased recently, I worked in a variety of capacities at GridNetworks in Seattle. Previously, I worked briefly at Microsoft in the Windows Enterprise Management Division, on new product initiatives. One of my projects was the integration of EMC/Smarts network management technology into a release of Systems Center Operations Manager. I'm proud to have played a role in driving that deal during its early phases!
Before Microsoft, I was co-founder and VP of Product Development at Network Clarity. I also work closely with Samuel Long managing our portfolio of early-stage investments at Pinpoint Venture Group. Until their purchase by Reader's Digest, I served on the board of AllRecipes, and currently chair the Pinpoint Foundation's efforts at non-profit support for scientific research.
Prior to this, I worked at Internap Network Services for 5 years in a variety of roles, ending up as Director of Software and Systems Engineering. In the mid-1990's, I worked for about two years at RealNetworks, although in those days it was called Progressive Networks. I worked on server development for RealAudio 1.0, 1.5 "Live", and 2.0, helped establish media publishing businesses, live audio streaming, and Real's early ecommerce business.
Before that, a group of us in graduate school were addicted to watching new astronomy sites appear on NCSA's What's New in 1993-4, and we'd point our early Mosaic browsers at the trickle of new sites each week, and then each day.
Several of us founded Emergent Media in 1995 to put our programming, systems, and design skills to work. Emergent Media quickly added content publishing to our mission, since we saw the handwriting on the wall — web site consulting was becoming a commodity. One of the founders had been producing Dan Savage's weekly radio show "Savage Love Live" for several years on KCMU (now KEXP), and we struck a deal: Emergent would take over the radio show, build a Savage Love website, and broadcast the radio show live on the Internet. That relationship was short-lived, but we soon branched out in other directions.
In 1997, under the direction of my partners Tim Hunt and Dan Shepherd, CookieRecipe.com was launched by Emergent, and the AllRecipes.com brand soon thereafter. I served on the board of AllRecipes.com at the time of its acquisition by Reader's Digest, Inc.
My research in anthropology focused on the ways evolutionary theory needs to be expanded or modified to include culture and language as systems of heritable transmission. I worked briefly in the Ohio River valley, spent 5 years working with Robert Dunnell in the central Mississippi River valley, worked with Julie K. Stein in the San Juan islands, and did a stint in Pakistan at Harappa with Mark Kenoyer and George Dales. I was a National Science Foundation Graduate Research fellow, and received my B.A. (cum laude, Phi Beta Kappa) from the Univ. of Washington in 1988 and my M.S. from the University of Wisconsin-Madison in 1990.
I also spent two years working as Project Manager for Woods Cultural Research, handling Native American relations with the PGT/PG&E Pipeline Expansion Project. We dealt with 18 groups along 1100 miles of right-of-way, from initial negotiations to survey studies to monitoring and remediation.